About nuix_careers
Let's change
the world,
Together.be a part of something great.
View open positions
a force for good.
A HACKER, AN AMBASSADOR AND AN ACCOUNTANT WALK INTO A BAR... It's no joke. You'll work with white hat hackers, former ambassadors and FBI agents, incredible engineers, product management gurus, passionate sales professionals and a fabulous corporate services team built to help you win.
You'll collaborate with the best and the brightest from across the globe. The world's leading financial institutions, corporations, consultancies and government agencies rely on our software platform. We're passionate about the work we do and by working together we are driven to achieve. You'll be a part of something amazing, and you'll fit right in.
We're on the look out for talent, view all open roles
"  
Nuix has been the challenge I was looking for. With exceptional people, culture and an inspiring leadership, I feel really energized.
- Pallavi, Transformation Program Manager
Here at Nuix, we pride ourselves on hiring the best and brightest in the business. That means you will be working alongside top industry experts.
Flexible work options

We offer flexible work options tailored to your role and location, including world-class office setups and the ability to work from home, so you can achieve the best work-life balance.

Parental leave that's competitive

We believe that family comes first. That's why we offer competitive paid parental leave for primary and secondary caregivers and provide support as you transition back to work, so you can take the time you need to care for your family.

Give back to what matters

We believe in giving back, which is why we offer one paid day per calendar year for our people to volunteer to a cause close to their hearts.

Stay connected 

We're Team Nuix first and foremost, and know that to foster a great culture we need to stay connected. Whether it's in-person or virtually, we regularly come together for office celebrations, team lunches, or even to share our latest puppy pics.
"   
It's incredible to be able to work with the Nuix tech stack and grow with the company as we adopt emerging technologies. I am exposed regularly to new ideas and concepts.
- Cameron, Solutions & Innovation Specialist
1000+ file types
that can be processed by the Nuix Engine
1000+ Customers
and global leaders in government, law enforcement, legal, and corporates
150+ Partners
who enable our technologies and extend our reach
11 offices
around the world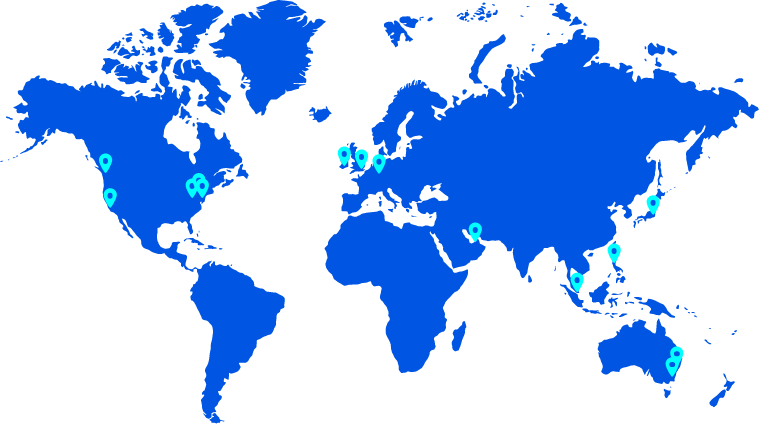 Sydney (Global HQ)
Corporate Functions, Sales, Development Hub, Support
Level 27, 1 Market Street, Sydney NSW 2000, Australia
Herndon (USA HQ)
Corporate Functions, Sales, Support
13755 Sunrise Valley Drive, Suite 300, Herndon VA 20171
Canberra
Sales Office
Level 2, 10 Rudd Street, Canberra, ACT 2601, Australia
Conshohocken
Development and Support Hub
Millennium I, 20 Ash Street, Conshohocken, PA 19428
Cork
Training, Support, Sales
3rd floor, 12 South Mall Centre, Cork, Ireland
Dubai
Sales & Distribution
Building 9, Office G14, Dubai Internet City, Dubai Office
Frankfurt
Sales & Distribution
Neue Rothofstraße 13-19, 60313 Frankfurt am Main, Germany
London
Corporate Functions, Sales, Support
5th Floor, 210 Euston Road London
Philippines
Business Support Hub
Finman Centre Bldg., 7th Floor, 131 Tordesillas St., Salcedo Village, Makati City, Philippines 1227
Pittsburgh
Development and Support Hub
601 Holiday Drive, Bldg. #3, Suite 300, Pittsburgh PA 15220
San Rafael
Development Hub
161 Mitchell Bvld., Suite 2B, San Rafael, CA 94903
Singapore
Sales & Distribution
8 Cross Street, #10-00, PWC Building, Singapore 048424
Seattle
Development & Support hub
1111 Third Avenue, Suite 1200, Seattle, Washington, 98101
Tokyo
Sales & Distribution
Ark Hills South, 1-4-5, Roppongi Minato-ku, Shibuya-ku, Tokyo, 106-0032, Japan
Our Impact
Hunting


for truth

Hear from the world's leading security, financial and government agencies on how partnering with Nuix has made the difference.