your journey starts here
See for yourself how our innovative software can transform your data into actionable intelligence and help answer your biggest data challenges.
Americas: +1 877 470 6849
APAC: +61 2 8320 9444
EMEA: +44 203 934 1600
DACH: +49 69 5060 75110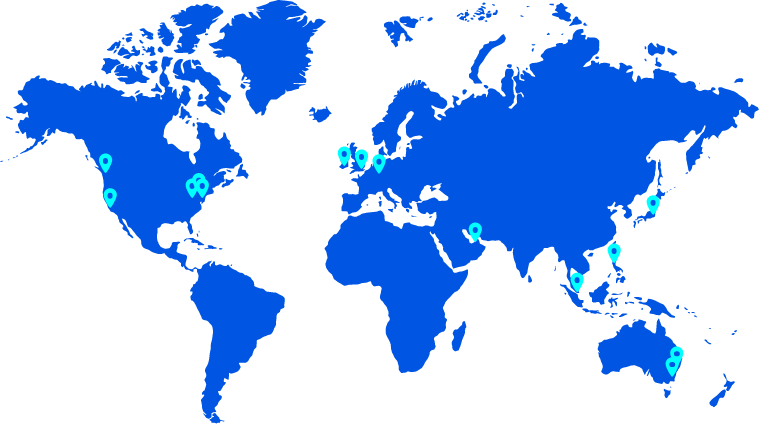 Sydney (Global HQ)
Corporate Functions, Sales, Development Hub, Support
Level 27, 1 Market Street, Sydney NSW 2000, Australia
Herndon (USA HQ)
Corporate Functions, Sales, Support
13755 Sunrise Valley Drive, Suite 300, Herndon VA 20171
Canberra
Sales Office
Level 2, 10 Rudd Street, Canberra, ACT 2601, Australia
Conshohocken
Development and Support Hub
Millennium I, 20 Ash Street, Conshohocken, PA 19428
Cork
Training, Support, Sales
3rd floor, 12 South Mall Centre, Cork, Ireland
Dubai
Sales & Distribution
Building 9, Office G14, Dubai Internet City, Dubai Office
Frankfurt
Sales & Distribution
Neue Rothofstraße 13-19, 60313 Frankfurt am Main, Germany
London
Corporate Functions, Sales, Support
5th Floor, 210 Euston Road London
Philippines
Business Support Hub
Finman Centre Bldg., 7th Floor, 131 Tordesillas St., Salcedo Village, Makati City, Philippines 1227
Pittsburgh
Development and Support Hub
601 Holiday Drive, Bldg. #3, Suite 300, Pittsburgh PA 15220
San Rafael
Development Hub
161 Mitchell Bvld., Suite 2B, San Rafael, CA 94903
Singapore
Sales & Distribution
8 Cross Street, #10-00, PWC Building, Singapore 048424
Seattle
Development & Support hub
1111 Third Avenue, Suite 1200, Seattle, Washington, 98101
Tokyo
Sales & Distribution
Ark Hills South, 1-4-5, Roppongi Minato-ku, Shibuya-ku, Tokyo, 106-0032, Japan
Frequently asked questions
Nuix specializes in transforming massive amounts of messy data – from emails, social media, communications and other human-generated content – into searchable, contextualized information. At the heart of our software is the Nuix Engine, a supercharged data processing technology that gets to the ones and zeros of more than 1,000 data types and file formats with forensic accuracy. 
Our suite of products uses the outputs of the Nuix Engine to provide insights and intelligence for customers across many different industries and use cases.
We work with a variety of industries including corporate, government & law enforcement, law firms and advisories and service partners. 
Choose how you want to deploy the Nuix software - in the cloud, on-premise or with one of our authorized partners.
At Nuix, we recognize that our partners and their skills are key to our continued success. We've built our partner program to harness the power and flexibility of a healthy ecosystem to benefit our partners and their customers.
Want To Become A Partner? 
Visit our Partner Portal to register and gain access to webinars, training, and partner-only resources. 
Already a Nuix Partner? 
Access the Partner Portal now